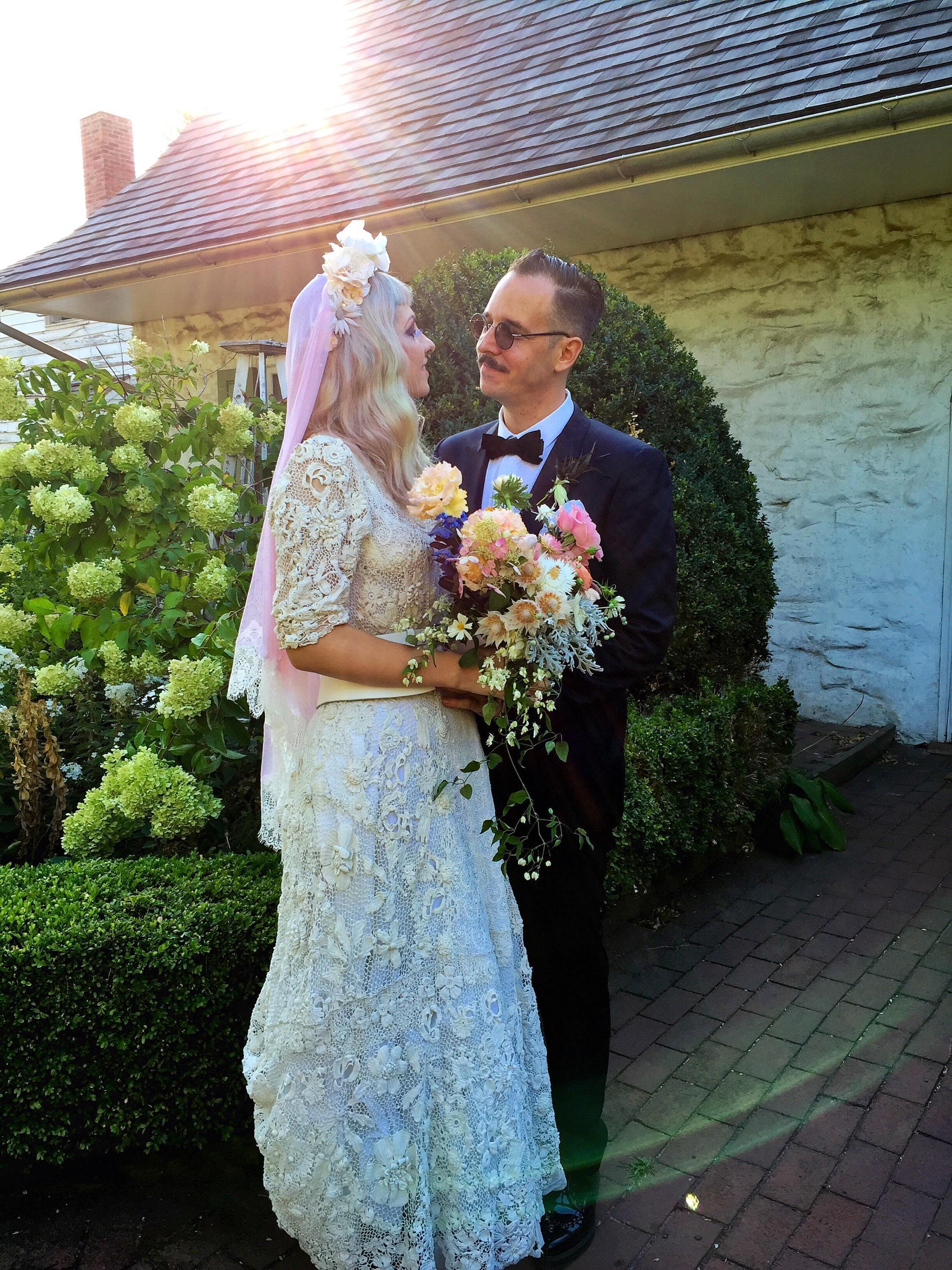 05 Sep

Elena and Brook Get Hitched!

Today is a wonderful day.

Two of my friends are getting married and I knew this was going to be an awesome wedding. If you've been following me for a while then you may be familiar with Elena and Brook.

If not, here are the lovebirds AKA My Frans 🙂
They're painfully adorable.
I had nothing to wear but remembered my new corset had arrived. Although I had not seasoned it yet, I figured wearing it lightly laced would be ok. I wore my new Lace Embrace underbust corset over a cranberry dress. I felt I might be under-dressed or under-accessorized because I KNEW this crowd was going to be dressed to the nines!
I was not wrong.
Doe Deere & Severly Mame
LAURA DEVOTION
Obsessed with Mame's Look!
P.S. I didn't take many pics of my outfit because I was in a rush but then…I was ENJOYING myself at the wedding so photos shmotos!
I arrived to a very colorful crowd. I believe that's an understatement. Guests included Doe Deere of LimeCrime, Joshua McKenney of Pidgin Doll, NYC nightlife royalty Kayvon & the Zand Collective, Severly Mame, Stella Rose St.Clair etc etc etc
IG @interrobangbang
Christian Ellerman, Laura Devotion& William Scott Blair
Look at all the pretty colors! IG @JDavidMcKenney
The excitement in the air was electric. What was the bride going to wear? The groom? How will the ceremony be conducted? Will there be vows? I just loved how excited we all were. Elena & Brook are just fucking amazing. Both as a couple and individuals. It was just so awesome to come together and celebrate this very "hetero-normal" tradition with an unconventional crowd.
IG @JDavidMcKenney
Stella Rose & Mischa
After some catching up over a few spiked lemonade cocktails, we were signaled to take our seats for the ceremony was about to begin.
It was beautiful.
Just beautiful.
The Bride wore a vintage Irish lace gown accessorized with a Zana Bayne and What Katie Did. The Groom in Lanvin and TUK Creepers. Just perfect. The vows were personal and silly. We the crowd ate it up. We the crowd felt our hearts burst with all the gross display of true love. I felt so thankful and happy to be part of all this. We cheered and clapped as the newly weds walked down the aisle together.
More mingling. More drinking. More dancing!
OH and I did do a few periscopes while I was at the wedding. Some of them are still up on my account if you want to watch them. I was super drunk in one of them where I swore of big boobs lol Off of Periscope I was having deep discussions of intersectional feminism, religion and Haute Couture…you know the usual topics of discussion 😉
After some more mingling and photos with the Bride & Groom, we were signaled to head into the tents to witness the first dance of the married couple. I had a big cheesy smile watching them. I think we all did. Which reminds me of Dr.Seuss definition of love:
We are all a little weird
and life's a little weird,
and when we find someone
whose weirdness is compatible with ours,
we join up with them and fall in mutual weirdness
and call it
love.
-Dr. Seuss
The rest of the night was filled with burlesque performances, singing, dancing, drinking and of course cake eating!
Truly a magical experience.
Love you Elena & Brook <3